The Selathorni Military

The Selathorni Army
Army RegularsLight Ground Troopers
-
5,000,000 troops, 10,000,000 support
The light infantry of Selathorn, designed for maximum mobility. They are equipped with dual function laser rifles, a blaster sidearm, an electro-shortsword, some flash grenades, and headgear designed to protect the user from chemical and biological weapons, as well as acting as an active data feed for the user. Half of the force is used for peacekeeping and defense of Selathorn, while the other is used in outward expeditions.
Heavy Ground Troopers
-
3,000,000 troops, 6,000,000 support
Using a heavier version of Light Armor, the Heavy Ground Troopers are the main combat troops of Selathorn. They are equipped similarity as the light troopers, but their weapons hold slightly higher firepower and they also hold more grenades and other small combat items.
Overcharge Advanced Infantry
-
50,000 troops, 150,000 support
Based on a design created by a team led by Joseph Gonzalez, the Overcharge Troops are given a special type of armor with a built in fusion engine to create massive amounts of electricity - which are then discharged with a specially designed rifle. Their weapons can also work as a Tesla coil, or drain energy from objects if they can release electricity inside them. The armor has two modes - "Charged", in which they are ready to discharge electricity, or "Masked", in which they charge electricity and are more camouflaged against their surroundings.
Training requires several months of conditioning to electrical shocks, as the armor will often shock the user in nearly lethal amounts, but the conditioning of these troops and the fact that they are chosen for natural resistance will allow then to overcome this problem.
Firebrand Heavy Infantry
-
25,000 troops, 75,000 support
Another design of Gonzalez's team, the Firebrands use highly heat resistant armor and use weapons generating flames at close range as well as high powered laser rifles, making them deadly combatants. They also serve as a walking artillery of sorts, as they throw extremely powerful fusion flame grenades designed to blast defenses as well as being very powerful against infantry. This however comes at the cost of being slow and lumbering troops, but even without these additions they would be the heaviest Selathorni troops.
Agency of Military Intelligence and Surveillance
(AMIS) -
10,000 troops, 20,000 support
A small group of agents trained under the old Disciplinarian ways, they exist to covertly observe enemies and secure military intelligence.
Direct Operations
-
5,000 troops, 20,000 support
The most elite of the Selathorni land forces, trained in all aspects of combat and tactics. They only respond to the command of the Director, hence the name. They are equipped with heavier armor and far better weapons and accessories then Selathorni regulars, distinguished by their four eyed helmets.
Army Tanks
Selathorni Light Tank
-
6,000
Selathorni Heavy Tank
-
3,000
Army Artillery
Selathorni Spectrum Turret
-
1,250
A very unique design of the Selathorni, this special turret can fire gamma rays (to irradiate soldiers) and microwaves (to burn soldiers alive), as well as a large particle laser.
The Selathorni Militias
Citizen's Militia
-
Up to 7,500,000
The Citizen's Militia is a private force of citizens established early during the founding of the Republic to create a force to protect themselves from infringements of rights and foreign attack. They are a small, but fairly well armed force. They primarily use guerrilla tactics with light armor and somewhat older weapons, although they are in possession of some newer and more powerful ones.
The Selathorni Space Force
750,000 operate and crew the various ships in the SSF.
Interceptor-class Light Fighter
-
75 on each carrier, 25 on each cruiser, 50 on each flagship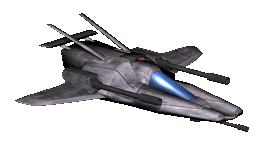 The basic fighter of the SSF, the Rapier-class are designed to be able to cram into a small area and launch quickly. They are armed with three light particle lasers and two EMP missiles, and also has the capacity to cloak from view (though not sensors).
Mercury-class Bomber
-
25 on each carrier, 15 on each cruiser, 35 on each flagship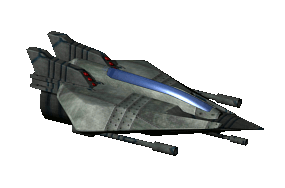 The bombers of the SSF, they hold two light particle lasers and two EMP missiles for defense, while holding a fair load of bombs. They also hold cloaking technology, which is used extensively in stealth raids.
Hawk-class Assault Fighter
-
25 on each carrier, 15 on each cruiser, 35 on each flagship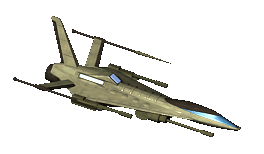 The heavy fighters of the SSF, the Lance-class hold four medium particle lasers and three EMP missiles, capable of taking down most fighters of similar size. The armor plating is not heavy, but it is designed for shielding instead.
Nano-class Microfighter
-
250 on every flagship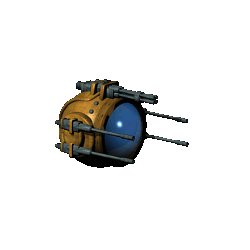 While at first the recently introduced Nano seems fragile and easily dispatched, its main draw is its amazing weapons to size ratio with five medium particle lasers, and an EMP missile, beating out the Lancer with one third the size. However, the Nano has almost no durability and is almost guaranteed to be destroyed with only a few good shots. It is also somewhat limited, only being able to be carried on one type of ship, but it still is an amazing piece of engineering and is a textbook example to all Selathorni spaceship design students on how specialization is what differentiates good from excellent ideas.
Celeus-class Transport
-
250 ships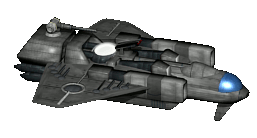 The transport of the SSF, this ship is designed to easily hold 1,000 men while carrying a huge amount of shields and armor. It also carries four medium particle lasers and five EMP missiles, but is generally too slow to use them.
Leviathan-class Carrier
-
40 ships
The hulking giants of the SSF, roughly 8.5 km x 2.5 km x 3 km, the Leviathan-class holds 75 Interceptors and 25 Mercuries and Hawks. The ship holds 500 missile launchers (short range though), 100 EMP missiles, and 75 large particle lasers, and strangelet weaponry. They are extremely slow, but can hold a fair amount of ships on board.
Harrier-class Cruiser
-
60 ships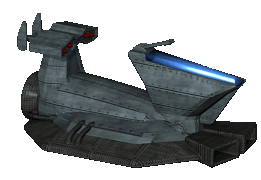 The backbone of the Selathorni fleet, roughly 5.5 km x 3 km x 2.5 km, they hold 25 Interceptors and 15 Mercuries and Hawks. Capable of doing fair damage with 100 missile launchers, 250 EMP missiles, 250 large particle lasers, 10 small ion cannons, 5 tractor beams, and strangelet weaponry, they are extremely effective coupled up with their heavy armor.
Liberator-class Flagship
-
20 ships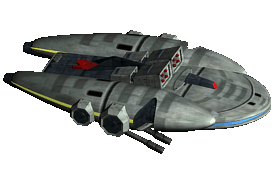 While not particularly large at 8 km x 1.5 km x 2 km, the Leviathan is one of the deadliest ship classes in the Selathorni spacefleet, as they hold hold 50 Interceptors and 35 Mercuries and Hawks, while carrying 150 missile launchers, 300 EMP missiles, 400 large particle lasers, 10 medium ion cannons, 10 tractor beams, and strangelet weaponry. They are quite capable of doing damage due to its large weapons to size ratio, and also carry very heavy shielding (although not necessarily armor). Its most deadliest feature, however, is its unique ability to release up to 250 small but powerful Nano-class fighters.