Planetary
Orbital
Terrestrial Super MAC
Although not actually orbiting a planet, these Super MACs are placed on small moons or asteroids where gravity has little effect on them. They are much more hidden than the other oribitals, but they have a limited firing range. This is sometimes compensated for by placing the Super MACs strategically across the asteroid/moon or by placing large fields of them in one spot to make it more deadly.
Orbital MAC
These are the most common form of Orbital defense for a planet. They are designed to be operated remotely and rotate to fire on their target.
Small Defense Station
These stations are the next most common piece of Orbital defense. These are also MACs that have a small team running them. In addition they have Shrapnel and Laser defenses to destroy incoming fire.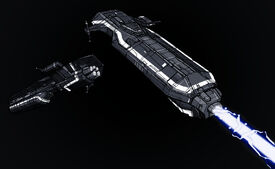 Large Defense Station
These are the main defense stations in orbit around a planet. There main weapon is the Super MAC which is the large tower part of their structure. In addition to this they have a full arsenal of weapons ranging from a Proton Collider to Particle beams with much much more.
Air
Superiority Fighter
This jet is equipped with heavy bullet rounds, missiles, and a Laser to defend itself with. They are small, fast, and highly deadly and easily terrorize enemy aircraft.
Terrestrial Bomber
This Bomber can be equipped with a wide array of different bombs, these can be small bombs for smaller targets or can be something on the scale of a Proton Bomb, depends on the situation. The bomber itself has strong armor and is quite fast, but it lacks a laser defense system and is usually dependent on ground SA defenses to protect it.
Terrestrial Carrier
This carrier is designed for transporting heavy vehicles from high atmosphere to ground or to transport large numbers of troops to the ground or air. They have several flak cannons with many Laser turrets to defend itself.
Land
Medical
These small vehicles can easily manuever themselves into most terrain and get medical attention to the military. The small pod can hold about 10 soldiers. It has no defenses or weapons.
Laser Surface-Air Defense
This vehicle is specifically designed to elminate enemy missile and bomb threats using its high power laser.
Missile Surface-Air Defense
This vehicle is specifically designed to eliminate enemy aircraft from the ground using its many missiles.
MAC Tank
This metal beast is the anti-structure unit of the land forces. Using its MAC it devestates all structures and vehicles, although the MAC is better used on buildings since they require the heavier bombardment when vehicles can be crippled by weaker weapons.
Particle Beam Tank
This Tank is designed specifically to take out other vehicles. While a particle beam isnt very effective against structures, it works marvelously against other ground vehicles. If the gunner is skilled enough he may even be able to take out aircraft.
Mobile Artillery
The mobile artillery usually go unused unless the Hive is sieging an enemy city. In which case, these stay far away firing their mortars and missiles. These artillery units are unique because move themselves around either by remote or pilot, then when ready to fire, push their body into the air because the body of the vehicle is the barrel itself.
Sea
Support Ship
This ship is multi-purposed and is always in a support role. The ship supports about a hundred aircraft, has long range missiles and several hospitals on board. Soldiers can be flown in to use the hospitals.