"Righteousness. Virtue. Liberty."
---
Official Name:
The Khroniktan Alliance
Other Name(s):
Khroniktus, The Khroniktans, The Alliance
National Color(s):
Gold, red, and white
National Slogan:
"From the Ashes of Shadow, we rise bright."
---
Government & National Population
---
Libertarian Constitutional Confederation
Non-Authoritarian
|------I---------------|
AuthoritarianNo Government Control
|-----I----------------|
Total Government ControlOpen Society
|----------I-----------|
Closed SocietyHawk Lobby
|----------------I-----|
Dove LobbyInterventionism
|-------------I-------|
Non-Isolationism
Key Members of Government:Head of State
– Priest-King Neodin Shadowslayer the Great, son of Lo'din the Fearless
First Ambassador
– Arch-mage Sheodin Thundermane
Minister of Defense
– General Mgn'ao
General of the Military
- General Khangev
Admiral of the Fleet
– Lord Tigris
Minister of Finances
– (Yet to be elected)
Minister of Industry
– (Yet to be elected)
Minister of Science
- (Yet to be elected)
Domain:Population:
Approx. 50,000,000
Khroniktus:
28,750,000
Arydia:
15,000,000
Rok:
8,000,000
Terronia:
3,000,000
Derew:
750,000
Other Holdings:
2,000,000
Colonies:
New Lionheart:
8,080,000
Khadyash Yvlhi:
6,590,000
Mij'rov vya'Leolik:
6,580,000
Major Race(s):
Aryites:
Created in the image of their god, the Aryites are a lion-like humanoid race. They stand on average about 7-8 feet in height with builds ranging from lean and slender to large and bulky. Fur, ranging from glossy blacks to pale yellows, covers their bodies. Some of them possess manes that are trimmed, tied back, or that are formed into dreadlocks. They usually dress themselves in leather or cloth clothing. Tails sway beneath hand-made dresses and between trouser covered legs. Whiskers twitch on sun-tanned faces.
The Aryites are renowned for their masonry, craftsmanship, and architecture, and are highly sought after for their skills. They are primarily a peaceful race of scholars, scribes, magi, philosophers, masons, craftsmen, and priests, but when provoked they are a terrible and awe-inspiring sight on the battle field. Aryites hold honor, courage, and strength in high regard. Over the eons they have been almost utterly destroyed countless times by tyrants and their servants. The Aryites are unrelenting and fearless in battle, and they will never stand for their sovereignty to be encroached upon.
Rokin:
A mysterious race of shamanistic, humanoid bird creatures. They dwell in the vast Mountains of Rok in near perfect seclusion. The Rokin are incredibly skilled in archery, elemental magic, and song. They are led by the wise (yet indecisive) oligarchy of the Council and are rumored to receive guidance from Go'ath the Storm Maker, the Wind Lord.
Terronians:
Four sects - wind, Water, Earth, and Fire... They are united under the virtually omnipotent celestial being Ter'ron the Warden. Go'ath the Storm Maker, the Wind Lord; Aigaioth, Lord of the Sea; Munio Earthshatter, the Mountain King; and Brailan Embertongue, the Fire Lord; all serve under him. They aide the Aryites and Rokin out of honor of a long lasting friendship, though they care little for events beyond their world.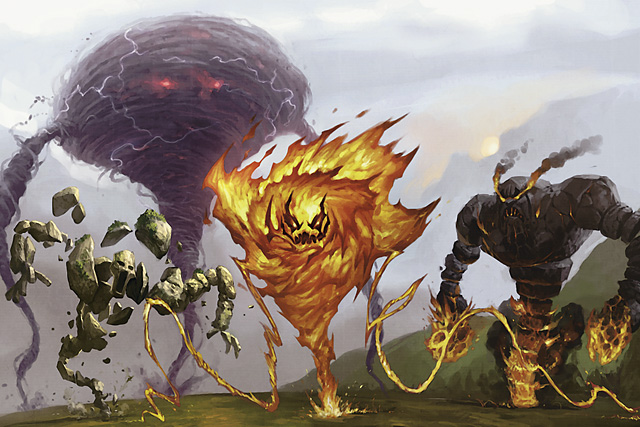 Derew:
Not much is known about this strange race of tree-like beings, other than that they have built a "living" citadel out of stone and trees in the center of a massive forest. Until about a few decades prior, few believed they even existed. Their command over nature is awe inspiring as they cause vegetation to grow spontaneously or come to life and attack their enemies.
Population Breakdown:
Aryite
– 40%
Rokin
– 30%
Elemental
– 20%
Derew
– 10%
Language(s) Spoken:
Common Khroniktan
- 95%
Traditional Aryite
- 35%
Traditional Rokin
– 27%
Yashri'ulon (Arcane)
– 6%
Burtal'kem (Elemental)
– 23%
Derew
– 10%
Religion(s) Practiced:Aryite Monotheism
- 87%
Animism
- 11%
Other
- 1%
Legal Stances:
(Varies from province to province. Below is the regulations for Arydia, the capital province.)
Legal Drinking Age:
No Controls applied
Driving Age:
N/A
Age of Sexual Consent/Adult Classification:
20 Terran years
Military Enlistment:
20 Terran years
Voting Age:
20 Terran years
Reproduction:
No controls applied. Strong support for marital prerequisite.
Status of Drugs:
Marijuana
- No Controls applied
Tobacco
- No controls applied
Cocaine
– No controls applied. Generally frowned upon.
Alcohol
– Legal. Restrictions in military and clerical positions.
LSD
- No prohibitions (not prior issue)
Caffeine
- legal, no restrictions.
Heroin
- No prohibitions (not prior issue)
Opium
– No prohibitions (not prior issue)
Methamphetamine
– No prohibitions (not prior issue)
Weapons:
No controls applied.
Death Penalty:
Reserved for specific violent crimes.
Speed Limit:
Varies.
Pornography:
Legal, age restrictions apply, but highly discouraged.
Prostitution:
Illegal.
Polygamy:
No controls on marriage
Homosexuality:
"Don't ask, don't tell policy". Individuals that are openly homosexual or publicly displaying affection will be arrested. Those found guilty will be subject to stoning.
Cloning:
No controls applied. (Unknown technology)
Slavery:
Legal, though under very strict guidelines.
Hunting:
Seasonal controls apply.
Consumption of Meat:
Legal.
Litter:
Minor offense.
Suicide:
Discouraged.
Gay Marriage:
(see homosexuality)
Abortion:
Illegal except under life or death situations. Illegal abortions are punishable by community stoning.
Sexual Activity:
Pedophilia
- Illegal (punishable by community stoning)
Beastophilia
–Illegal (punishable by community stoning)
Xenophilia
- No controls applied. Generally frowned upon among Aryites.
Rape
- Illegal (punishable by community stoning)
Obscenity:
Public Nudity is classified as a misdemeanor and subject to fines.
Taxation Systems:
Flat "per-head" tax of 100 shekim/year, and international tariffs.
Prerequisites for Citizenship:
Automatic Citizenship:
Born in the Khroniktan Alliance territory,
Born to parents who are citizens,
Member of the Armed Services for 3 years
Partial Citizenship:
Screening and approval from KIO (Khroniktan Immigration Office),
One Parent is a Citizen,
Marriage to a Khroniktan Citizen
Prohibited Immigration/Visitation:
Those deemed as threats by screening officers.
Censorship of Media:
No controls apply.